ABOUT
The project "Dal deserto mentale...OASI" bridges an online virtual community and digital communication with real world creativity and artistic collaboration. Visit our GALLERY, browse through our ARTISTS and INITIATIVES and check out our exclusive design objects in the OASI SHOP.
The image below seems to capture a universal pattern starting from the left hand side and moving towards the right. The line in the middle represents the true "you", the unchanging and timeless soul. The curving line represents the ego, the "you" of mind and body, full of doubts and hope. A flow that moves always between + and -, that however is always moving forwards towards finding itself.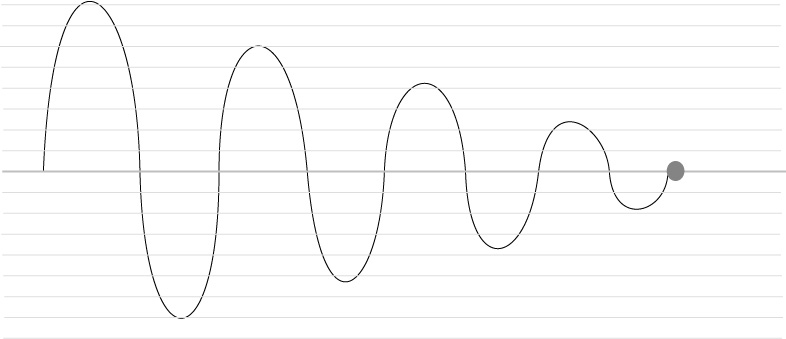 The Dot. The 'dot' represents a temporary point of arrival, an "oasis in the desert", the brief coming together of, mind, body and soul. The dot is the product of the creative act, of personal growth.
This pattern repeats itself over and over, chaos into form and then into chaos again; Confusion into resolution and then into confusion again. Like a musical chord that resonates without form upon first being struck, but eventually finds harmony, finds a pure "note". Yet no musician is ever satisfied with a single note, or a single chord, or a single song.
Like a painter faced with a blank canvas, vast possibility, yet also fear and doubt. The painting is finished as the painter emerges from under all the layers through the process of creation, but the pattern repeats. The painter takes up the brushes again and steps again into the "desert".
The dot is sacred. The dot is a manifestation of this universal struggle that we can see, we can touch, we can share with others. The dot is also a gathering place, a place to tell stories, a place of companionship and a place where we are reminded that we are not alone, and there are many other wandering souls just over the horizon.
Emozioni ed idee hanno bisogno di corpo.
Bring new ideas to life.
For any questions please CONTACT us.